Being a Fleet Manager
---
Starting with Stockholm, onto Sweden.
On January 2016 a heavy blizzard hit Stockholm, a food-delivery startup needed a skilled mechanic to equip its 50 bikers with spoked tires for the winter: That is how I got in touch with Foodora. I was offered the position of Fleet Manager for the city of Stockholm. This was a wonderful opportunity to put together my managerial skills and my huge passion for bikes. Soon I took over the recruitment and Foodora's fleet in Stockholm grew from 50 to 250 bikers in 6 months. In the meanwhile we launched other 4 cities: Göteborg, Malmö, Uppsala and Solna. By the end of summer 2016 I was promoted as Head of Fleet Management for the whole Sweden.
Part of a Whole: Feeding the Community
Being a passionate biker and mechanic myself, I found very easily my place among the Foodora riders. I started being a mentor for them, helping them with tips and tricks, showing them shortcuts, teaching how to fix the bike and most importantly: riding side to side with them. I have been delivering some orders with them, followed up in some training rides and being part of the Foodora competition team for some races (NCMC2016) and Alleycats. Soon the role I created was not enough to comply with such a huge fleet, so some of the most committed and experienced bikers were elected Rider Captains. Making the fleet scalable and repetible is the key to keep if efficient, engaged and under control.
What I am proud of: My Achievements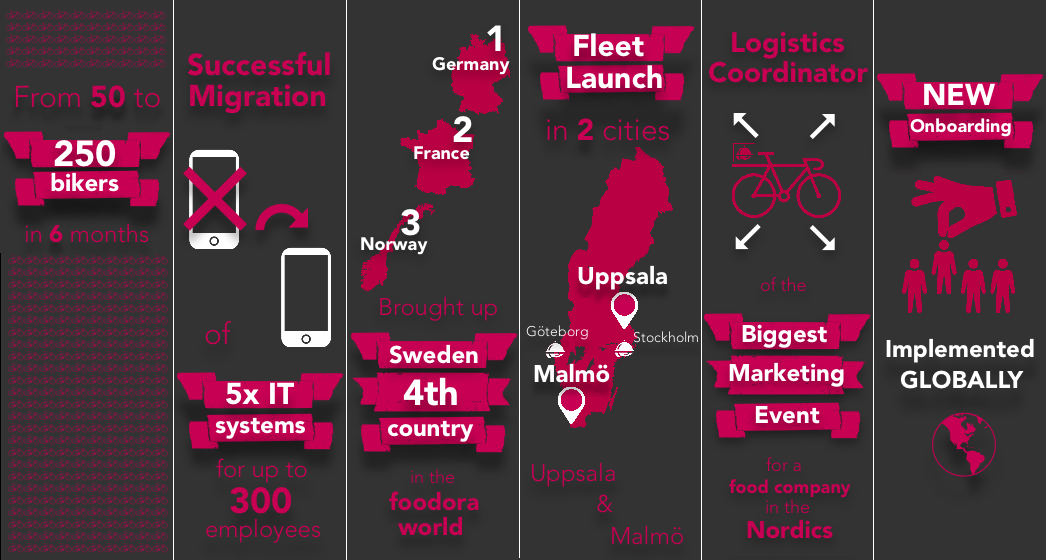 The Nerdy Touch
Keeping the fleet fit, efficient and committed was my work. Foodora is a massively data-driven company, a characteristic that I loved particularly. Despite my love for data, it is not always easy to change people's opinion or seek engagement just by showing them numbers. In order to make the best use of the data regarding the fleet I always sent out to our rider a weekly newsletter with charts and stats to keep the competition alive. An example below.